When:
January 13, 2020 @ 10:00 am – 2:00 pm
2020-01-13T10:00:00-05:00
2020-01-13T14:00:00-05:00
Where:
103 McLaughlin College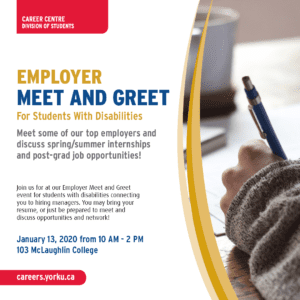 Please join us for our Employer Meet and Greet event for students with disabilities connecting you to hiring managers. You may bring your resume, or just be prepared to meet and discuss spring, summer internships and new grad job opportunities and network!
Drop by any time between 10:00 am to 2:00 pm.
Registration is required. You may register for this event on the Experience York (you will be able to sign in using your Passport York and register for appointments and events on the system).



Participating Organizations

What type of opportunities are you recruiting for?

Summer and Fall Internship

Do you hire Master & PhD level students and graduates?

Yes

What skills are you looking for in your new hires?

Communication, Critical Thinking and Problem-Solving

Are there programs or disciplines that are of a particular interest to you?

Summer Internship Program (May - August 4 - month contract - paid)
Toronto Urban Fellows Program (Sept - August 12 - month contract - paid)

Approx. # of positions that you are looking to fill

15

Where will these opportunities be posted for students to view?

Company Website

How should students apply for these positions?

Company Website
What type of opportunities are you recruiting for?

New Graduate

Do you hire Master & PhD level students and graduates?

Yes

What positions will you be recruiting for?

Interns choose to work in one of the following areas:
Business and Financial Planning
Communications
Human Resources
Information and Information Technology
Labour Relations
Policy Development
Program and Service Delivery

Where will these opportunities be posted for students to view?

Company Website

How should students apply for these positions?

Company Website
What type of opportunities are you recruiting for?

Summer and Fall Internship

Do you hire Master & PhD level students and graduates?

Yes

What skills are you looking for in your new hires?

Communication
Personal Success
Social Responsibility and Community Engagement
Knowledge Acquisition and Application
Critical Thinking and Problem-Solving

What positions will you be recruiting for?

All types.

Are there programs or disciplines that are of a particular interest to you?

N/A

Which related fields are you recruiting for?

Technology (IT, Engineering)
Business (Finance/Accounting/Commerce/Consulting, HR)
Healthcare/Life science
Marketing/Sales
Communications & Media & Design
Arts, Culture & Recreation
Policy, program and legal

Approx. # of positions that you are looking to fill

100

Where will these opportunities be posted for students to view?

Company Website

How should students apply for these positions?

Company Website
Organization Profile

RBC is a digitally enabled financial institution that provides services to retail and commercial clients in Canada and around the world. We are driven by a unifying purpose to help clients thrive and communities prosper.

What type of opportunities are you recruiting for?

New Graduate
Summer
Itnernships
Bilingual(French/English)

Do you hire Master & PhD level students and graduates?

Yes

What skills are you looking for in your new hires?

Communication
Interpersonal Connections
Knowledge Acquisition and Application
Critical Thinking and Problem-Solving

What positions will you be recruiting for?

Sales and Service(graduated students)
Summer Internships(Technology, Finance, Marketing and Communications, Sales and Service)

Are there programs or disciplines that are of a particular interest to you?

Science
Rechnology
Math
Buisness
Economics

Which related fields are you recruiting for?

Technology (IT, Engineering)
Business (Finance/Accounting/Commerce/Consulting, HR)
Marketing/Sales

How should students apply for these positions?

Company Website
York University's Career Centre Job Portal

Where will these opportunities be posted for students to view?

Company Website
York University's Career Centre Job Portal