Students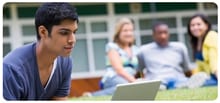 If you are logging in for the first time, you will be asked to sign up for an account before you can register for any workshops or appointments.
Please update your profile any time your contact or academic information changes.
York Students & New Grads can:
Search for and apply to jobs;
Register for Career Centre workshops, appointments and events;
Set up job agents to notify you when new opportunities are posted that meet your needs;
Get email notifications about upcoming activities that match your selected criteria.
Career Centre attendance policy: If you miss 3 appointments within an academic year without cancelling, you'll be blocked from participating in Career Centre activities and from accessing the Career Centre's online job posting system for 6 months.
Employers
If you are logging in for the first time, click on "Register" to create a new account.
Employers looking to hire York students can:
Post jobs for York students;
collect application documents and batch resumés for review;
Request Recruitment Sessions;
Post a profile of your organization that students can view when researching employers.