Official Languages Programs
Please note: Not all employers provide information about their positions and application processes. Learn more about this during the virtual fair.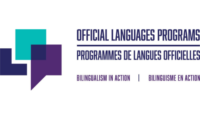 If you are looking for a trusted and respected Canadian program to learn French, look no further. Odyssey: Inspire youth to practice their English-speaking skills and share your culture while getting paid! That's Odyssey! Embark on this nine-month Odyssey and you will: - earn paid work experience in a classroom setting (approximately $25 per hour). - discover whether the field of education is right for you. - experience francophone culture and way of life in New Brunswick or Quebec. - develop new skills and improve your French-speaking skills. Explore: Explore is an intensive French-immersion program that is offered during the spring and summer. If you are interested in learning or improving French and travelling to a new part of Canada, then Explore might be the perfect program for you. The programs have been operating across Canada since 1971. We look forward to celebrating Explore's 50-year milestone in 2021 with our entire community! Come to our booth to get more information and ask your questions!
Website: https://englishfrench.ca/
Types of positions:
New Graduate, Bilingual (French/English)
Recruiting for:
Recruiting for language assistant positions across Canada. As a language assistant, you will work in a classroom setting with teachers, using games and activities to help students learn and improve English.
Come to our booth to get more information and ask your questions!
Related programs of study:
Our program is open for all students from any program.