Authors: Amy Epstein and Runa Patel, Career Peer Educators

The Graduate and Professional Studies Expo hosted by the Career Centre happened on October 3rd, 2019 in the Second Student Centre. There were over 90 educational exhibitors spread out each with a table representing a University or College, an individual faculty or program, or in the case of the Study in Scotland table, representing further education from an entire country! There were programs from varying fields including health, law, education, business, engineering, international schools, professional schools, and colleges. Myself and Runa are Career Peer Educators from the Career Centre. At the Expo, we joined together to interview 6 education exhibitors and Runa ask some important questions to share with the community who are interested in applying or even thinking about further education. We began asking the most frequently asked questions by students applying to further education.
Insight on Technical Support for applicants in the process
Sara Del Piano from Glendon College shared that then programs at York University's Keele and Glendon Campuses both have introduced Webinar Info Sessions to share program information to prospective students from the comfort of the their houses. After the webinar, they create contact with the students as a resource to answer any questions throughout the application process. As well, once a student has applied to a York University Graduate Studies program, there is an online system that allows you to see where your application documents are in the screening process!
The in's and out's of writing a personal statement
A personal statement is your opportunity to stand out from the application pile and is an essential part of many Graduate and Professional Studies applications. Sarah Bailey and Rony Daniel share their insight on writing and preparing for a personal statement. Sarah Bailey recommends research once again! Making sure you know the details of the program you are applying to and what the institution is looking for. There may be specific volunteer or work experience they are looking for, as well as the academic qualifications. Most institutions see your academics on your transcript, so your personal statement can showcase your understanding of the program and why you choose it, your motivation to study or for a profession specifically, if applicable. Rony Daniel from the MMPAL program of York University recommends tuning your personal statement to the individual program you are applying for. There are a lot of examples to look at, but each kind of field and program is looking for something specific. Asking yourself, how can you differentiate yourself from the traditional applicant; it could be work or volunteer experiences, it could be social or personal experiences you've been dealing with that make you unique in that way. A personal statement should show that past your GPA and academics.
Accommodations made during and after application process for students with Disabilities
An accessible learning environment and the support in gaining accommodations is incredibly important for all students to achieve success in Graduate and Professional Studies as well. Each school will have varying accommodations that can be found by all students. Chiara Filicetti shared with us the accommodations across the Campuses of Humber College. All of the staff members receive Accessibility for Ontarian's Disability Act (AODA) compliance trainings. There are numerous resources available to students of varying abilities including Note Takers in class, American Sign Language interpreters, T9 Ciphers, extra time in test taking, and universally accessible websites and documents. All of the accommodations are provided by Humber Staff meaning they are not outsourced from the community and the Accessibility Centre staff inform each of the student's professors of the accommodations on the behalf of the student, so they are aware before the student begins the course.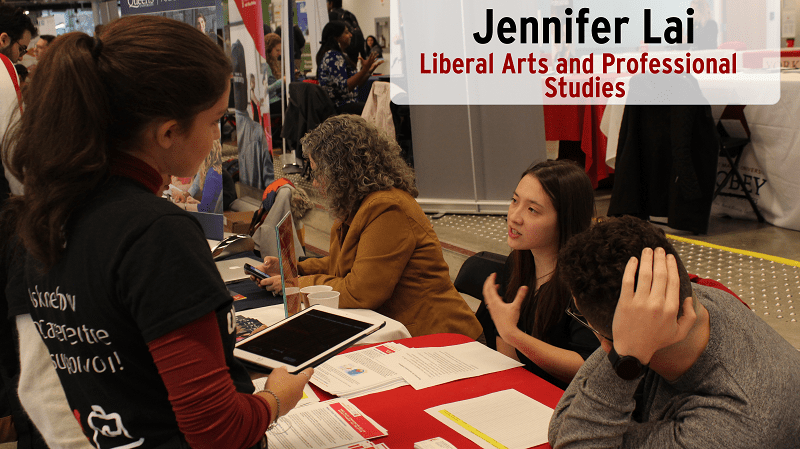 What to look out for when applying to further education
Applying to further education may require a combination of submissions for an application including a resume or CV, letters of reference, a portfolio, an interview and submitting transcripts from all university studies. Each program and school will have a unique set of requirements and that's what Sarah Bailey representing the Study in Scotland Graduate Schools and Jennifer Lai from York University discuss in terms of their most beneficial tips.
Sarah Bailey
representing the Study in Scotland Graduate Schools recommends 'research, research, research'. Each university or college and the programs within them are unique and offer different benefits for different kinds of students. There are important questions to ask yourself: Does the program match your learning style? Are there excellent work placements offered as part of the course?
Jennifer Lai
from the Master of Public Policy, Administration and Law Program (MMPAL) of York University recommended picking the right program that is suited to your passions and what motivates you to do the work. Grad School is a large amount of investment and that means the most important thing is researching. Applying how the programs fit your passions and then fitting it to a career as well.
How to get the best out of an open house?
An open house is a great way to gain information about and compare graduate schools and professional studies programs to be able to make an informed decision regarding applications.
Luke Chang
from the University of Toronto explained their open house where they visit various labs to see research in action and see the facilities that the graduate students are provided with. Their program is largely run in labs as opposed to classrooms, so the tours focus on that as opposed to the campus. Instructors and current students are available to answer questions and promote the program.
Chiara Filicetti
from Humber College discussed the benefit of attending their open house and any in general. As it is a chance to ask any questions, tour the campus, and see the facilities offered. It is a compact event filled with everything you need to know about being a new student in the program and school. Generally, open houses are hosted in the fall for program-specific sessions and campus-wide as well.
Preparing your application and even deciding whether further education is for you to take researching and planning. Talking to representatives from different schools and programs is a great step within the process as they can answer the questions we asked and individual ones as well. Each of the exhibitors we spoke to was incredibly knowledgeable and willing to answer all types of questions relating to attending their programs and just general advice about applications and admission to Graduate schools and Professional Studies.