Black & McDonald Ltd.
Please note: Not all employers provide information about their positions and application processes. Learn more about this during the virtual fair.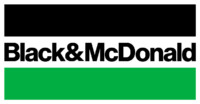 Black & McDonald is an integrated, multi-trade service provider that safely delivers high-quality construction, facilities management, and technical solutions to government, institutional and industrial clients. With nearly 100 years of diverse market experience across North America, we are a forward-thinking organization with a strong track record of delivering customer-focused solutions and operational excellence. We have the breadth of experience, capabilities and resources to oversee full project and asset lifecycles from design and build through to maintenance and management. Across all our lines of business, our mission is to "do it right" and build enduring relationships that stand the test of time.
Website: http://blackandmcdonald.com
Types of positions:
Internship
Recruiting for:
Internships in Construction and Accounting
Related programs of study:
Engineering and accounting