FDM Group Canada Inc
Please note: Not all employers provided information about their positions and application processes. Please visit their websites for more details.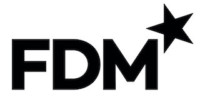 FDM creates and inspires exciting careers that shape our digital future. Through our Careers Program, we recruit and train those aspiring to become IT and business professionals before deploying them on to client sites worldwide. With Canadian centres located in Toronto and Montréal, we are eager to help new graduates build rewarding careers in IT and business specialties. We provide training in IT Service Management, Software Development, Big Data Development, Quality Engineering, Business Analysis, and more. FDM also offers workshops, job shadowing experiences and office visits designed to help you prepare for life after graduation. Sounds fun? Come to our booth and meet our team!