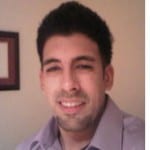 Kishan Dhanjal
Degree
: Honours Bachelor of Administrative Studies, Human Resources Management
Graduated
: 2009
Current Position
: Human Resources Representative, Honda Canada Finance Inc.
Current Career: Human Resources Representative, Honda Canada Finance Inc. - As a Human Resources Representative, I am primarily responsible to partner with internal departments to facilitate human resources practices and programs.
Within my duties I support the business needs by handling recruitment process, maintain strong relationships with internal and external stakeholders, ensure appropriate maintenance of Associate records, facilitate coordination of new programs and projects, and conduct presentations to communicate change initiatives.
I also participate in the month-end and quarterly reflection process; compiling data and human resources analytics as well as ad hoc projects.
Why I think I'm living a great life: I'm making a positive difference to my organization, my family and friends, and my community.
How I got here: I graduated at the peak of the recession, and had quite a difficult time finding an opportunity in Human Resources. I found an organization called Career Edge, an organization helps recent graduates find interesting opportunities in their area of study. I was extremely interested to find out that they were hiring and after nearly 6 months of searching I found my first job in human resources!
What I did when I felt unsure/lost about my career direction: After I graduated, I wasn't sure what to expect in the job market, especially entering into a volatile labour market. When I felt that I wasn't sure of my direction, whether it was in my job or overall if I was in the right career, I always thought back to my underlying reason for choosing my career in HR - helping others.
I think that we sometimes need to take a step back and think about why we chose to be in a certain industry or profession and I think that helps give clarity to our career decision-making.
Thing that made the biggest difference: The support I receive from my family and friends has been the difference between success and failure to me. Their ongoing support and encouragement has helped me get through the rough times.
How I'm using my degree in my career: My degree at York has helped me in so many ways here at Honda Financial Services. Where to start!?
I definitely have developed a strong foundation of knowledge of HR practices from an academic and practical standpoint, including recruitment and selection, compensation, human resources planning, and financial & managerial accounting.
What I've learned: Don't give up! You may think or view the job market as very intimidating and daunting, however its important to keep positive and enthusiastic. After you graduate, make sure you take time to think about your resume and application strategy to ensure you're making the most out of your resume. The York University Career Centre was a great help to assisting me in finding my first job in human resources.