TASTE lunches happen year round during the Fall/Winter and Summer terms.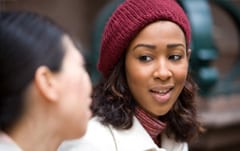 Thank you for your interest in participating in the TASTE (Take A Student To Eat) Program. TASTE offers students an opportunity to talk with a York alumna/us about career-related interests. The program pairs two students with a York grad over an informal lunch or coffee setting.
Who Can Participate in TASTE?
Any current York student or new graduate (up to two years after graduation) can request a TASTE appointment with a York alumna/us.
---
Requirements for student participants
Only York students and new grads (up to two years after graduation) are eligible to participate in TASTE. You must also agree to the following:
completing the TASTE online student participation form which includes providing a description of why you chose the particular alumnus/alumna to have lunch with and what you hope to gain from your TASTE experience
attending the TASTE Preparation Session, Stand Out At Interviews & Networking Events workshop OR Dining Etiquette workshop prior to your lunch appointment
attending the meeting, prepared with informational interview questions and behaving and dressing professionally
representing York University in a positive manner
completing an evaluation of the TASTE program and your experiences
---
Requirements of alumni participants
The Alumna/us is required to take you and another student to lunch and share their personal career experiences and knowledge with you, and answer, to the best of their ability, questions you have about their job, industry, sector and/or organization. Aluma/us will be asked to complete an evaluation of their TASTE experience. The TASTE meeting is a one time only appointment and the alumna/us is not required to maintain an ongoing mentoring relationship with you.
---
Matching Process
Students will be chosen to participate in TASTE based on a first come, first serve basis, the completion of the eligibility requirements, and their expression of interest on their application. Once you have completed the online student participation form, the Career Centre will review the information you provided and verify, if applicable, the date(s) you attended the prerequisite workshop(s). If you did not already attend the prerequisite workshops, the Career Centre will verify that you are registered and attended the workshops prior to your lunch date. Once you have completed all eligibility requirements, you will receive an e-mail indicating you have been selected to participate in TASTE. You will be required to RSVP to this e-mail confirming your participation. Once you RSVP to this e-mail, you will receive a final confirmation of your TASTE appointment with the date, time, location, a link to informational interviewing tips, and name of the other student with whom you will be participating. Please note that York University does not screen participants in the TASTE Program and assumes no responsibility for the quality or outcome of your participation in the TASTE Program.
---
Cancellations
Once you have been chosen to attend a TASTE meeting and RSVPd that you will attend, you are required to show up for the meeting.
If you have to cancel your TASTE appointment due to unforeseeable and legitimate circumstances, you must notify the Career Centre by 9:00am the day before the scheduled meeting. For example if your meeting is scheduled to take place on June 15th at 12:00pm, you must notify the Career Centre that you will not be able to attend by 9:00am on June 14th. To notify us that you must cancel your TASTE lunch please call the the Career Centre at 416-736-5351. Leave a voicemail message clearly stating the following:
Your name
Your student number
That you are cancelling a TASTE lunch
The date of your lunch
The name of the alumnus/a you were scheduled to meet
Due to the high volumes of e-mails we receive, we regret that we cannot accept cancellations via e-mail.
TASTE lunch appointments fall within the Career Centre's attendance policy. If you miss 3 appointments (including TASTE appointments) within an academic year without cancelling, you'll be blocked from participating in Career Centre activities and from accessing the Career Centre's online job posting system for 6 months.
---
Confidentiality
Your contact information will only be given to the York alumna/us and other student with whom you will be meeting once you have RSVPd to the Career Centre. The Career Centre may contact you following your lunch to ask you to provide a testimonial for the TASTE website and/or other materials used in promotion of the program. All information you hear or obtain from the alumna/us and another student must be kept strictly confidential by you indefinitely unless disclosure is permitted by the alumna/us and/or student or is required by law.