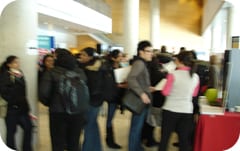 Every year employers and other professionals, including York alumni, come to campus to promote their opportunities to York students by taking part in the Career Centre's recruitment sessions, career fairs, and Career Conversations panels as well as other recruitment and career information activities.
Occasionally career-related events are organized through other York University departments or units. Sometimes, external organizations host larger-scale career events to which they invite a broad student audience.
If you're interested in connecting with employers and other professionals, check out the activities below:
CAA Club Group - 'Drive Your Career Forward' Open House
June 26th, 2018
3-7PM
60 Commerce Valley Drive East
Markham, ON L3T 7X6
RSVP and attend our Open House
This is a unique opportunity for job seekers to experience our workplace here at CAA Club Group (CCG) and see what a typical day may look like as one of our Associates. 'Drive Your Career Forward' will showcase why CCG is a great place to work for new graduates and current job seekers.
There will be an opportunity to meet and network with our talent acquisition team, as well as representatives from our various lines of business, which includes Membership, Insurance, Retail, and more!
Candidates can participate in speed interviews and submit resumes.
Refreshments will be available and there will be an opportunity to win some great CCG swag!
---
Please Note: Above are profiles submitted by organizations qualifying their own activities in their own words. Claims and opinions expressed are not necessarily those of the Career Centre or York University.