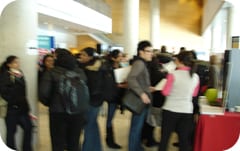 Every year employers and other professionals, including York alumni, come to campus to promote their opportunities to York students by taking part in the Career Centre's recruitment sessions, career fairs, and Career Conversations panels as well as other recruitment and career information activities.
Occasionally career-related events are organized through other York University departments or units. Sometimes, external organizations host larger-scale career events to which they invite a broad student audience.
If you're interested in connecting with employers and other professionals, check out the activities below:
GO GLOBAL EXPO 2017
September 23-24, 2017
Kerr Hall, Ryerson University, downtown Toronto
This FREE event will showcase:
Volunteer-sending organizations, universities from around the world,  jobs abroad, non-profit groups,  jobs teaching English, internships, adventure travel operators and lots more!
Careers for Globetrotters panel discussion, with advice on obtaining and succeeding in overseas work.
Verge Magazine's "Travel With Purpose" photo exhibit.
Informational seminars and workshops presented throughout each day by experts in the field.
Drop by anytime over the weekend to speak with exhibitors, or plan your visit to attend one or more of the hourly seminars.
Pre-register online to save time at the door and get a free subscription to Verge Magazine! For more information, please visit www.letsgoglobal.ca.
---
Please Note: Above are profiles submitted by organizations qualifying their own activities in their own words. Claims and opinions expressed are not necessarily those of the Career Centre or York University.