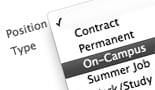 Responding to online postings shouldn't be your only job search strategy but it should definitely be a part of your strategy.
York University Career Centre's online job posting system
Experience York: Search for and apply to full-time, part-time, internship, summer and volunteer opportunities. Each year thousands of employers post over 10,000 opportunities for York University students and new graduates.
---
General Job Posting Sites
Keep in mind these sites are open to the general public so it isn't unusual for hundreds of applicants to apply to every posted position.
---
Targeted Job Search Sites
Targeted job posting websites can be a good resource for identifying specific types of positions aimed at particular populations, or jobs in a particular field.
Jobs in Higher Education
Jobs in Hospitality or Tourism
Jobs in Media
Green Jobs
Research Jobs in Science
Working Abroad
Additional Resources
Please Note: Descriptions of many of these online resources are taken from language used on external websites. Claims and opinions expressed are not necessarily those of the Career Centre or York University.