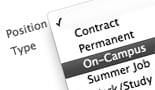 Responding to online postings shouldn't be your only job search strategy but it should definitely be a part of your strategy.
York University Career Centre's online job posting system
Career Centre's online job posting system: Search for and apply to full-time, part-time, internship, summer and volunteer opportunities. Each year thousands of employers post over 10,000 opportunities for York University students and new graduates.
---
General Job Posting Sites
Keep in mind these sites are open to the general public so it isn't unusual for hundreds of applicants to apply to every posted position.
Canadajobs.com: Canada's source for job search "how-to" articles and tips.
CareerBuilder: Search for jobs in Canada and around the world.
Eluta.ca: Search for new jobs in Canada.
Government of Canada Job Bank: Search for jobs by province.
JobGurus: Job search engine to discover jobs from thousands of employer and career sites across Canada
Job Search Canada: Search for careers by field or degree with Canada's National Career Education and Planning tool.
Job Postings Magazine: Student jobs, entry level jobs, internships across Canada.
Neuvoo: Job postings across Canada, with over 40,000 postings in Ontario alone.
Ontario WorkInfoNET: See links to work- and career-related websites in Ontario. There are also WorkInfoNets for each province and territory across Canada.
Resume Target: includes a job board that allows you to set up daily job alerts and compiles a list of suitable job postings from major and niche job boards across North America.
Working.com: Search for jobs across Canada, get career advice, and read about current labour market trends.
Workopolis.com: Lists a variety of job opportunities.
Wowjobs: Search more than 100,000 jobs from thousands of job boards, classifieds and company sites in Canada.
---
Targeted Job Search Sites
Targeted job posting websites can be a good resource for identifying specific types of positions aimed at particular populations, or jobs in a particular field.
Charity Village: Canada's site for the non profit sector.
Aboriginal Inclusion Network: Canada's aboriginal job board.
Ontario Municipal Jobs: Ontario's site for jobs in cities, counties, municipalities, towns, townships and villages across the province.
Jobs in Higher Education
Jobs in Hospitality or Tourism
Jobs in Media
Green Jobs
Research Jobs in Science
Working Abroad
Please Note: Descriptions of many of these online resources are taken from language used on external websites. Claims and opinions expressed are not necessarily those of the Career Centre or York University.