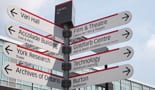 An on-campus job can be a convenient way to gain valuable work experience and make some money right here at York while completing your degree.
On-Campus and Part-time Opportunities
Login to Experience York (Career Centre's online job posting system)and search by the "on-campus" position type to find jobs posted by on-campus employers.
On-Campus Work for Students
If you're eligible for OSAP, you may also be eligible for some of York's on-campus work programs. Visit the Student Financial Services website for more information and to complete the Student Financial Profile to determine whether or not you are eligible for the following programs.
Work/Study Program
The Work/Study Program at York University provides eligible undergraduate students (domestic and international) with the opportunity to develop professional skills and contribute to the university through paid, on-campus employment opportunities. These on campus work experiences will enrich and complement your classroom experiences. In addition, you will be given the support and tools needed to develop proficiency in core competencies that will contribute to your long term personal and professional success and develop your capacity to lead.
York University offers 3 programs under the Work/Study umbrella:
General Work/Study - Provides student employees with a broad range of opportunities to contribute in support roles while developing valuable, relevant skills and work experience for the work place. These roles offer a learning and development opportunity for Work Study employees to receive experiential on-the-job training, guidance and mentorship. Under the guidance of permanent staff members, Work Study employees will provide support to their relevant department/faculty in clerical, administrative and technical capacities.
Leadership, Engagement and Ambassadorship Program (LEAP) – LEAP positions focus on engaging undergraduate students in roles within the faculties, colleges, programs, or the university at large, that enhance the overall student experience at York university. LEAP roles allow students to develop skills such as leadership, peer mentoring, and peer support within the University setting and are less clerical in nature than the typical Work/Study position (e.g. less than 20% clerical). Examples of positions include: YU Start Leader, Student Recruitment Ambassadors and Peer Educators/Mentors.
Research at York (RAY) – RAY positions support the research culture of the university and the undergraduate student academic experience by providing paid opportunities for eligible and qualified undergraduate students to participate in research projects with faculty members and fellow students. RAY positions involve undergraduate students in quality research activities that will provide them with hands-on research experience, and at the same time will provide the faculty member with meaningful research support.
---
Information for Students
Click the links below for more information: