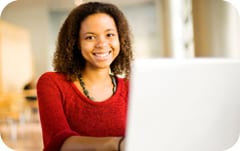 York's Career Centre offers a range of services and events which are open to all York students and recent graduates as well as online resources to assist you with job searching, career exploration and finding volunteer opportunities.
The Career Centre's professional staff strive to provide quality career exploration and job search supports to York students and new graduates. In an effort to continue to make our services more accessible, students with disabilities may find supports in each of the areas indicated below.
York's Career Centre is elevator accessible. York students who require additional accommodations are encouraged to contact York's Counselling & Disability Services (CDS), which provides supports to York University students with disabilities.
Upcoming Events
There are no upcoming events to display at this time.
Career Exploration Support at the Career Centre
Career Counselling
Are you having difficulty deciding on a career path? Are you unsure how your degree may relate to your future career? Do you feel challenged moving forward with your career exploration?
To discuss your career concerns, meet with one of our Career Counsellors.
Your first Career Counselling appointment is a 20-minute session booked online.
Additional session(s) will be booked directly with your Career Counsellor and are 50-minutes.
If you are already working with a Career Counsellor at the Career Centre, please contact your Career Counsellor directly to schedule your next appointment.
If you would like assistance with your résumé or cover letter, please attend the Résumé & Cover Letter Writing workshop as résumés and cover letters cannot be reviewed during career counselling.
Career Conversations panels offer students an opportunity to learn about career paths and industries from employers and alumni. Many of these events have been videotaped to allow for remote viewing:
Job Search Support at the Career Centre
Resumé Support: For increased accessibility, students may request to complete a one-on-one Resumé Feedback Session in person, via telephone, or via email. The Résumé & Cover Letter Writing workshop is a prerequisite for one-on-one resumé support.
Job Search Advising: Students interested in expanding their job search resources, learning effective job search strategies, and networking and interview tips, may book a one-on-one Job Search Advising appointment with a Job Search Advisor. These are 20-minute sessions in which one of your job search questions can be discussed. Students who are unable to attend an in-person appointment can request to complete their session via telephone or via email.
Post-Graduate Studies Support: Students interested in applying to post-graduate studies such as master's and doctoral programs, teachers college, law school and professional studies may book a Post Graduate Application Support appointment (personal statement and CV review) or PhD Job Search Support session in person, via telephone or email.
Job Search Handouts such as resumé and cover letter examples as well as sample interview questions may be accessed on the Career Centre's website.
Job Search Support and Opportunities in the Greater Toronto Area
York Resources for Students with Disabilities
General Resources for Students with Disabilities
Accommodation Resources
Government Resources
Legal Resources
Related Books
Online Resources
Please Note: Descriptions of many of these resources are taken from language used on external websites. Claims and opinions expressed are not necessarily those of the Career Centre or York University.